High Quality Pulley Manufacturer | Pulley Supplier | Pulley Exporter | Pulley India
Rajendra Pulley Pedestal Center is a leading Pulley Manufacturer, exporter and supplier in Ahmedabad, India offering an all kinds of the pulley, coupling, Gear etc. With the wide range and experience design and development of Mechanical power Transmission product to our customers requirement. We are proud of our innovative locking mechanism V-Belt Pulley and we are a pioneer in manufacturing the top quality products used in a wide range of application across various Industries.
With the focus in the customer services and Quality Parts Rajendra Pulley and Gear manufactures high precision components having over 20 years of combined experience in this Industry allows us to continue to grow and manufacture a solution for your needs. We provide our pulley with complete Bore key and dynamic balancing we are using a different grade of materials like GCI 15, GCI 25, SG 700, SG 600/3, SG 500/7 also required as per the Customer needs. Attributes of our products include durability, dimensional accuracy, high tensile strength, resistance to corrosion, superior functionality and much more.  We offer the products range at highly competitive prices and accept the payment for order through flexible modes and terms.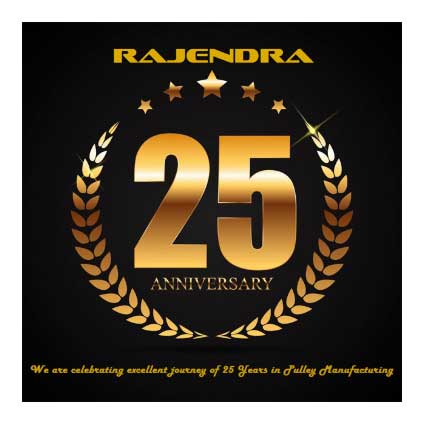 Under the able guidance of our Mentor "Mr. Rajendrabhai B Panchal ", we have reached at the success. Working this way is the unique ability of our team. We are determined by our goals and achieve them.
Key tag
Time Pulley Manufacturer | Pulley Manufacturer | Taper Lock Pulley | Gear box manufacturer in ahmedabad | Gear box manufacturer