Our company is established in the year 1993. Rajendra Pulley based on Ahmedabad, India Company is engaged in manufacturing Power Transmission Products like Flat Belt Pulley, V Belt Pulley, Timing Belt Pulley, Coupling, Various types of Gear, Timing pulley, Wire Rope pulley, Clutch Pulley, Variable Drive Pulley, Taper Lock Bush, Coupling, Chain Sprocket, Step pulley and other power transmission Products. Our offered all products or components are manufactured using high quality raw materials by our expert team. Our company is committed to quality and innovative product and has earned appreciation from across the Industry and accolades awards from reputed organization.
Providing the Versatility of a full-service machine with a specialization in custom pulley manufacturing and high quality services. Our company manufacturing production type of Pulley Manufacturer and also precision pulley by adopting ISO 3142, ISO 4183, DIN 2211 and other standards.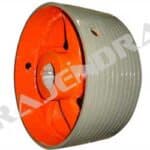 We manufacture a large variety of high quality timing pulley Stock. Our Various type of pulley is manufacture on demand allowing us to produce virtually a different type of pulley.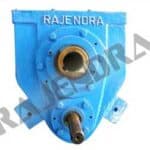 Rajendra Pulley Pedestal Center manufactured by high quality materials various type of gear like Spur gear, pinion Gear, Helical Gear, Oil plant gear etc.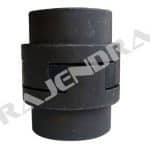 We engineer design and manufacture custom timing coupling for all application. We provide customers with cost effective, high quality coupling to meet there needs. 
A pulley sheave is a circle on an shaft that is Manufactured to hold up movement and change of way of a cable or/and rope, or transfer of power between the shaft and cable or/and rope. A pulley is a special mechanism that is used to leverage the lifting of heavy loads to required heights. It is nothing but a wheel on an axle, with a belt or cable moving easily on the groove of the wheel. This cable or belt can move in either direction along the circumference of the wheel. It works because it changes the direction of the force put on the rope while lifting the load thus eases the lifting of load.
We are one of the reputed names engaged in manufacturing quality range of Industrial equipment.  Due to the Capability of our offering products we are able to gain the trust of our esteemed clients. There are some reason listed below which have us to achieve a good reputation position in the competitive market within the short time.

We follow some predefined Industry norms and standards while executing all the various activities to manufacture these Pulley, Coupling, Gear etc. In order to make sure about the Qualitative range is delivered to the customers ends we have a huge professional team of Quality Controllers. Our Team conducts the stringent test and checks on the product line and assure that not even a single flaw is present. Our whole product is tested on various parameter, tools and equipment to meet Industry standard and Quality product. Parameters on which the whole products are tested are as follows.